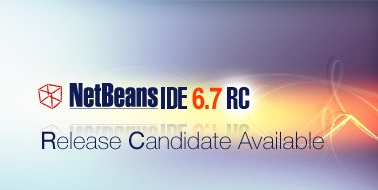 I'd been using 6.5 for the last couple of months, forgetting to look for updates in my RSS feed, when I came across the announcement of Netbeans 6.7 RC 2.
I quickly downloaded it and started using it, when I found out that RC3 was released just yesterday as well, I've downloaded it, but since I'm in the middle of a slew of projects I won't be installing it until the weekend.
However with RC2, I am impressed that they finally fixed the silly problem of each version of Netbeans not importing settings from previous versions.
The install went smoothly and I was up and running faster than usual.
The things that jumped out at me are
+ There is no annoying subversion connection window that jumps up in the output section for each project that you're working on any more
– The Ruby irb output window still doesn't work for me (see screenshot)

– Still no word wrap (I know they've said to expect it in version 7.0, but seriously …)
– I spent almost 2 hours yesterday trying to figure out what changed between RC3 and RC2, and I couldn't do it.
If you can, please drop me a line.
Apparently with each new release, the documentation page updates to the current release. So basically there isn't a release page for RC2 any longer (please fix this guys).
+ For Ruby on Rails here are the things that are new (nothing exciting really)
Here are the release notes for RC3
Ruby and Rails
Remote debugging support
Improvements to Ruby constants support
Run and debug actions for test cases and suites included in context menu
Support for Shoulda tests
enjoy.